Author! Author!

---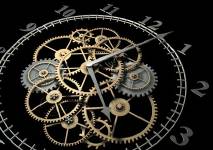 Through the Wings
A Short Story

by Jeffrey Biegel
May 31, 2061
3:30 pm. A cup of Javalotta. Fruity sconettes. Envirosafe banapples--the sweet fruit created by cross-breeding apples and bananas in 2040. Cufflinks: check. Vest: check. Tie: where did I place that colorful one that matches the vest? Perhaps I best not wear that today. It is certainly a serious concert and I don't want to upset my audience. Must go with the 'classical' look. The elders still respect it. White tie and tails. The image of the 'maestro'. Lucky if we get a young crowd to come for only half a show. With their MTV2R (Music Television Virtual Reality), they would probably rather go to a nearby Cafe-lotta and produce their own demo chip with the hottest teen idol on the scene. Beats seeing me hammering away at the 98s! Was I ever glad when Rockin' Rocky Road penned out a half decent piano concerto in the 2020's following his long career as the generation's number one flip-flop artist. I truly believe that the flip-flop artists had a genuine respect for the classics. They bounced back and forth between the styles, making their music accessible to everyone, including me. Hard to believe I'm about to perform a solo piano recital that spans music written over three hundred years! Great piano--a vintage 2030 Steinway concert grand. I've planned an interesting yet traditional program: the Bach 'Toccata in G Major', Elton John's eclectic 'Sonata no. 3' and Paul McCartney's revolutionary 'Souls'. After a short water break for an intermission, I've saved the daunting 'Sonata in b minor' by Liszt. Luckily, that hasn't been played too often in the last fifteen years--hard piece. It has a deeply rooted meaning to me, since Franz Liszt was my grandfather's teacher's, teacher's teacher!
Going through my repertoire list for the 2061-62 concert season, the American Philharmonic has asked if I would celebrate both their Fiftieth Anniversary and the centennial of the spectacular 'Piano Concerto' by Samuel Barber. They have invited me to take it on the road on a whirlwind international tour: New York, Washington, Seattle, Los Angeles, Tokyo, Manila, Hanoi, Bombay, Baghdad, Palestine, Tel Aviv, Cairo, Damascus, Teheran, Morocco, Moscow, Rome, Paris, London, Manchester, Oslo, Bergen, Stockholm, Helsinki and finally back to the United States to record it on vid-chip (video recorded chips). Naturally, I have great expectations for this tour. Since the Great Peace Plan, which the leaders devised in 2008, there has been great freedom to travel and perform throughout the planet. I vaguely remember my great-grandfather telling me stories of his tours to these places. The Renaissance of Culture flourished. However, it has become increasingly difficult in the last few years to witness fully attended concerts. With nearly every performance available online, many people prefer to be at home in their virtual concert halls. As I gaze through the wings offstage, I see an aging audience. What will it be like in ten, twenty, or thirty years when the elders pass on?
8 pm: This was by far one of my finest concerts. My sweetheart, Marilena, approved of the concert! She's always my toughest critic. Surprisingly, there were many young people in the crowd. I signed many vid-chips and posed for some impromptu cyber photos. Following the recital, a curious gentleman hesitated toward me and had asked to share an interesting tale. His father was the renowned George Muzel, composer, pianist, conductor and impresario in the 2030s. Mark Muzel attended my recital and was illuminated with the sound and style which he witnessed. I had to admit that a wonderful piano enhances everything! He mentioned that his father had passed away two years prior. Mark is a solar radioactive physcientist. As I understand, he's a scientist who also practices the medical properties of physical science through modern day applications. I recall reading articles about his attempts with the science of transport. While we spoke, he sensed that I deeply respected and longed to keep the musical traditions of earlier centuries alive. I had already recorded thirty vid-chips for Concert Chips International. Although my career was flourishing, I still craved to reach the youngest audiences to perpetuate the enjoyment of the world's greatest music. Mark played on the fact that I murmured an intense desire to see and hear just how Beethoven or Gershwin might have played in their lifetimes. He paused briefly, and asked if we might meet quietly the next day to discuss something in total confidence. I agreed.
June 1, 2061
11 am: Tapestrys. A quiet cafe with coffee from Africa--a sensuous blend of flavorful beans which can't be found anywhere else. I like to eat the Billy Goats with this coffee. They are made from scratch and remind me a bit of the tiger muffins with the fruit filling that my grandmother always baked. The neo-electronic music filled the air with a sense of pro-modernism. What ever happened to symphonic background music?
Mark entered the room quietly, rather serendipitously, as if he were just browsing by. He found me sipping the coffee and sat himself down in front of me with his back to the room. "So you want to hear Herr Beethoven?" He added, "I suppose you would like to peek through the wings at a Beethoven recital?" Total silence, which, for me, was very unusual. Perhaps he was hallucinating. I replied quite realistically, "A flight to the Beethoven Museum?" He sat silently and laughed for a moment. "The Solar Project, my 98 key friend. Now you must never speak of this to anyone. Of course, I am not quite ready to be called the 'Mr. Pioneer' of travel toward the 22nd century, no thank you. It might not work. Perhaps it will succeed. I will, however, need a victim, er, volunteer. Yes, yes. It will work, I tell you. Don't be afraid. Now, I cannot pay you, for in the end, you probably will want to pay me!" I was stunned and wondered what this genius was babbling about. My first question stumbled off my lips. "Surely, Doctor, you are referring to the virtual tours of the great composers." Rather snide, he replied, "You are a great pianist, but a silly man. Are you so desperate to return to the techno-free era that you forgot you are here?" I was now very concerned about the eccentric doctor's emotional stability. I thought he had invited me here today to offer his father's manuscripts to me in his last will and testament. He went on, "Not 1807 at first. I cannot assure that would work. It must be a gradual expedition. You can indeed return to 2008, when your great-grandfather performed at the Lasting Peace Concert." Delusional! Lost his mind! I have been played for a fool. I answered, "Silly man you call me? I hardly know you and your psyche is not at all comfortable to be around. However, your aura is quite mystical, yet I cannot decipher your true reality base." He snapped back rather defiantly, "That is why I asked to meet with you, dear man. As an honest musician, you seem to be constantly searching for the 'right' way to be true to the composers' wishes. I think I can put some, or all of your questions to rest."
By now, I thought he would disintegrate me with a solar radioactive laser and I would indeed go to the next phase of existence and see my idol composers standing in a line telling me whether my interpretations of their music was correct or absurd! He added, "Dear Maestro. If you are willing to work with me, you will have your questions answered. You will also understand the validity and purpose of your life, and together, we might revolutionize time travel for the rest of eternity. I can take you back in time, but not forward. Perhaps my pupils will accomplish that when I am long gone. For me, as an old-school philosopher, the future is something we must strive for. It destroys the mystery of today if we know about tomorrow. However, in returning to a past date, we can appreciate the values and painstaking efforts it took to accomplish that which was done for the benefit of the present and future." In total accordance and mesmerized by this man, I asked, "Where shall I go?" He replied, "Where would you like to go?" I removed my PenPal from my coat pocket and fingered the itinerary on the screen pad. I copied and pasted my plan to Mark's PenPal. I find this invention developed in 2045 much easier to use than the old Palm Pilots. It is so much easier to use my fingers as a writing instrument to write down my thoughts. I am still trying to be more aware and accepting of modern technological advances. The mere fact that I can perform a three-hour concert in New York at 4 pm and be transported to Los Angeles for an 8 pm performance is no longer anything extraordinary. Why not take hi m up on his generous offer? He could have asked anybody else, indeed. If he turns out to be as scholarly in his studies as his father was in music, this could be quite a remarkable experience. I must keep my mouth closed, eyes down, shut off all electronic and solar devices. No communication whatsoever. One question: would I return to the time I had left? He hurriedly said, "Maestro, you will meet me tonight at 11 pm behind the Muzel Memorial Cultural Center. There are no shows tonight, so it will be deserted. Bring nothing but yourself. You will return from your journey before midnight. If you go back in time for two hours, two weeks or more, it will not matter. The time will be compressed accordingly." He concluded, "Until tonight, goodbye my friend."
June 1, 2061
10 pm. I sat peacefully in a chair, gazing at the photos of my family and my dear Marilena, and statues of my favorite composers. I laughed aloud, actually humored by the notion that I might very well visit the gods of music past. Then I was concerned that Dr. Muzel might not show up and would have played me for a fool. Can he truly send me through the wings of time? Perhaps I will travel on the wings of angels so as not to perish along the way. Why did I meet with him? I suppose it is because I had to give myself this chance that might never present itself again. Marilena knows nothing about this escapade. I've left my Last Will and Testament in my online filing cabinet--she'll know exactly where to find it should anything happen to me in years gone by.
10:45 pm. Behind Muzel Memorial Cultural Center
A whispering voice murmured through the fog. "Maestro, I am here." I turned slightly to the left and saw Mark standing next to a machine, the likes of which I have never visualized. "Please step onto Platform A at Door A." I finally trusted my doctor friend and obliged. As I paced toward the platform, Dr. Muzel calmly spoke to me. "Many years ago , Maestro, I heard tales of an early televisional program titled, 'Lost in Space'. The episode dealt with anti-matter clones of the characters in the show. It was quite fascinating. However, the anti-matter clones were quite evil, working against their good alter egos. In 2060, InstaClone has enabled me to utilize my own metaphysical and research skills to develop this machine that can instantaneously re-create you at the present time and preserve you as you are. Your re-created self would then be solarically sent to the time and place of your choosing. Your PenPal will be connected to the computer on the side of the machine and map out your adventure as you go along. Your actual self shall be frozen in time as your clone is sent back. It takes virtual reality to the next plateau! Are you in accord with this exploration?" Of course, I was already standing on the platform. Where was I to go? If I stepped off the platform and left with no questions asked and nothing answered, I would never know what I had missed. Dr. Muzel did say that my body would not go on the journey, only my re-creation. This was indeed a chance of a lifetime, a chance I had to take. "Yes, Doctor, I am in full accord." He simply replied, "Very well. Have a wonderful time. Keep in mind the words 'purpose' and 'the big picture!'"
11 pm. The door closed effortlessly around me. Within seconds, a gentle breeze entered the capsule and a soft ray of light was absorbed throughout my body. I felt a calm mood envelop me. I closed my eyes and within a short moment, total peace and serenity wrapped itself around my physical self. I felt a fading out sensation, followed immediately by a fading in.
I heard music. Beautiful music. It was Beethoven's 'Piano Concerto no. 4'. I looked closer and recognized the pianist to be that of my grandfather. Yes, Dr. Muzel, it worked. It was February 12, 2008, the Lasting Peace Concert. The front row in the audience seemed to be the most distinguished leaders of the time, as I knew them from the pictures in my history books. This was the historic concert that celebrated the Peace Deal of the 21st Century. Listening to the most heavenly sound at the piano, I remembered the words 'purpose' and the 'big picture'. Perhaps it had been my grandfather's purpose to make the music come to life so that in the years to follow, I would then carry the torch of tradition. My appetite to explore the past and learn from the masters had grown increasingly voracious. How I had wished that my grandfather could have seen me and had known I was there! Through history, it was indeed the music that shared common bonds and values amongst the nations. Beethoven's music had survived. The purpose of his eternal genius was ever more evident that afternoon. During the walks of life throughout time, the purpose of music must be evident, not necessarily defined as a purpose, but as an entity that is part of our daily existence. It is a language that communicates to the heart, awakens our spirit and is forever inscribed in our souls. Therefore, I had to gradually go back in time to return to the time of Beethoven.
I felt a fading sensation, and noticed the absence of my grandfather and everyone that had surrounded me. My innermost desire at this phase of consciousness led me to the final concert conducted by Leonard Bernstein in 1990. His friends called him Lenny. He possessed an energy that was relentless. He conducted sublimely in tender moments and then bounced on the podium with aplomb when excited. I had attended the 100th Anniversary of his beloved musical opera, 'West Side Story' in 2057. The story was based on the Arthur Laurents' book about a Puerto Rican gang against a New York City gang. It is still considered one of the best Broadway musicals ever created. My grandfather once told me that he had performed for Lenny. He was not a tall man, but a giant amongst the walking musicians. He told me he had worn a ceremonial tallith around his neck and had spoken kindly to him.
That fading sensation again. My eyes then closed briefly, and slowly opened to the vision of the great Bernstein conducting the Boston Symphony Orchestra at the Tanglewood Music Center. His sheer brilliance and aura took over the scene. The crowd went wildly enthusiastic. It was indeed a short visit, which inspired me to remember the legendary pianist, Vladimir Horowitz, who in 1965 returned to the concert stage. He was married to Wanda Toscanini, the daughter of the illustrious and sometimes fiery Maestro, Arturo Toscanini. My eyes fell gently and when I breathed a short breath, I was instantly on the corner of West 57th Street in New York City waiting on line for tickets to see and hear the great pianist's return. Carnegie Hall--the legendary concert hall. The old-fashioned taxi cabs and buses roared through the city streets, with a busy hustle-and-bustle of the great 'Big Apple.' A curious cafˆ© called 'Horn and Hardart,' an automat with automatic food that appeared when you made a purchase. A sweet smelling coffeehouse, Martinson's, filled the air with a delicious aroma of freshly brewed coffee. And funny little packets of a caffeine-free coffee called Sanka. Freeze-dried coffee? Electronic stores had television sets in black-and-white and new color consoles lined up against the outside window for passersby to watch. The news stated headlines of war in Vietnam and people chatted about the peaceful outcome of a very dangerous missile crisis stemming from Communist Cuba. Their great President, John F. Kennedy, had been assassinated only a few short years prior to this date in time. On February 12, 1965, there had been a nuclear test off of the Pacific Ocean. Nuclear threats already permeated the society of the mid-20th century. Without waiting, a metaphysical segue brought me into the concert hall, standing room only, of course.
Mr. Horowitz walked onstage and began the famous 'Toccata in C Major' by J.S. Bach. As soon as he began, an audible note mistake! He was quite nervous. Though, what had followed was a miracle sent from the heavens above. He produced sounds at the piano that were beyond human abilities. The music was vibrant and alive. I had heard an old scratchy recording of the concert, but the sound in the concert hall could never be exactly reproduced. It was sheer magic. Many people thought Mr. Horowitz resembled Frederic Chopin. Tears rolled down my face. How lucky the audience that was entranced for two hours. Had they truly realized what they were experiencing? New York City looked quite different from anything I had imagined. I left Carnegie Hall invigorated and inspired. I also heard rock music playing in the streets. It was February 12, 1964, that the British rock group, the Beatles, concluded their first American tour with two 25-minute shows in Carnegie Hall. As I had read in music history books, they visited the White House with British Prime Minister Sir Alec Douglas-Home for a visit with President Lyndon Johnson. President Johnson remarked to the Prime Minister, "I like your advance guard. But don't you think they need haircuts?"
My next leap backward was to the landmark premiere in 1924 of George Gershwin's 'Rhapsody in Blue.'
1924: February 12. Aeolian Hall in New York City. My eyes opened and I heard the legendary clarinet trill, which began the immortal masterpiece. It was Paul Whiteman's 'First Experiment in Modern Music.' These pieces that bridged serious music with lighter styles eventually led to the phrase, 'crossover' music. John Philip Sousa and the great violist Jascha Heifetz were in the concert hall. I noticed an absence of technology: no cellular vision-phones, PenPals, or solarwave devices. That same day brought the New York City premiere of George Kaufman's "Beggar on Horseback" as well as a historic day when the Soviets invaded Georgia. However, for the US, it was a great decade of prosperity, until the Great Depression was triggered by the Stock Market Crash of 1929.' New York was vibrant with flappers, vaudeville shows, movies, and the music of George Gershwin. The 'Rhapsody in Blue' was an electric piece of music. I had known the piece for my entire life, but it was fascinating to see the audience hearing it for the very first time. Watching the master Gershwin play his own piece was a dream fulfilled. It had been commonplace for composers to premiere and actively perform their own music. I bet George never realized how popular his music would become after his short life ended in 1937. My grandfather shared with me that the United Airlines Company had used the famous theme of 'Rhapsody in Blue' for their advertising. I bet Mr. Mozart would have been surprised to see his name on a bottle of chocolate marzipan liqueur and on the sweet marzipan delectable chocolates called 'Mozartkugeln!' Once again, the big picture was re-defined as a purpose to instill new traditions for the next generations to follow. Naturally, it wasn't only Gershwin, Horowitz and Bernstein that were actively contributing to the musical life of their times. There had been literally thousands of musicians and composers. They were the pioneers who were responsible for the perpetuity of their music and added to the vibrancy of the musical scene. Certainly the lives and passages of each composer gave the legacy for those who followed, as in the ever-flowing tides of a musical ocean.
Fearing that time was an issue, though I still had trust in Dr. Muzel's invention, I needed to take caution in going back too far in time. I paused for a moment. My coat pocket felt a bit strange. I reached in and removed my PenPal. I had forgotten to give it to Mark. He was to have attached it to the computer to map out my tour for my InstaClone to embark upon. Was it my actual self and not my InstaClone that took this metaphysical whirlwind through time? I quickly scribbled on the PenPal to Dr. Muzel, 'Are you there?' How 2061 seemed like light years away. He replied, 'Where have you been? I have your InstaClone in a state of static freeze at Door B.' My PenPal malfunctioned at that very moment. The solar chip had to be recharged. However, in 1924, there weren't any solar chip chargers. Had anyone seen the device, I would have been whisked away in a paddy wagon.
Suddenly, whether or not I returned to 2061 didn't matter. I was enthralled with the time to which I had traveled and wanted at that point to see Franz Liszt. I had to hear him play his 'Sonata in b minor'. My body froze slightly and I felt myself fading once again. I felt myself melt like butter into a transient state of mind. I floated through a fast paced tunnel, and found myself in a totally different place.
1859
I paced on an old, rickety wooden floor. The scent was musty, and it was rather quiet. There were no airplanes, automobiles, air conditioners, fax machines, cash registers--all fantastic creations, mind you, in 'the big picture'. I hesitatingly tiptoed to the side of the stage. There were large red velvet curtains. Before I could pull away the edge of the curtain, I heard short sounds. They were the octaves on 'G natural' in the low register of the piano. I drew the curtain slightly and saw a man with dark yet maturing features. As he played, I saw the audience get closer. It had to have been the phenomenal pianist Franz Liszt playing his sonata. As I listened, it sounded exactly like my teacher had taught it to me. The traditions stayed alive for nearly two hundred years. He was young, visceral and enchanting. The women were agog. This was indeed the essence of the Romantic Period of music. They wore regal clothing, and the opulence and elegance filled the room. He played the piano like no one I had ever heard, although the pianists of the 20th century were very close to the tradition. I wished that I had brought a recording device with me to capture the moment. He played with great liberty, which we were taught not to do. However, his interpretation held together with an enormous sense of the whole piece. After all, it was his own sonata! The people listened in sheer ecstasy--happy to be there. They knew nothing of the 20th century. This was the Industrial revolution. Art, music, literature and medicine advanced by leaps and bounds. It was hard to believe that Johannes Brahms and Robert Schumann were alive and writing their masterpieces.
Time was of the essence, and somehow I had to believe that I could fulfill the prophecy of my expedition and still return to 2061. I wasn't sure at this point that it would be possible to ever return. For that matter, it didn't concern me at all. I picked up a newspaper that stated on February 12, 1850, the original George Washington Farewell Address manuscript sold for a mere $2,300! On February 12, 1848, Gounod's "Faust" premiered in Milan. Why were the dates always February 12? February 12 is my birthday--was this a gift? 'Please take me to see Frederic Chopin!' I rambled on like a child. There was heightened anticipation in my trembling voice as a circular sensation spun me around in a dizzying fashion.
1830
I found myself sitting on the floor of a salon. Perhaps it was Paris. There was a distinctive Parisian quality in the items in the room. I could see women dressed in high couture and the room smelled like the finest perfume. Boom! An E-flat octave. I looked up and saw a man playing the piano. It looked like photos of Vladimir Horowitz, but it couldn't be him. But was it him? As the piece continued, I realized it was Frederic Chopin's famous 'Heroic Polonaise.' It was also the composer himself. Frederic Chopin was of average height, and played quite strongly. They said he was ill later in his life, but when he composed most of his great piano repertoire, he had to be strong, for he played much of it in public. He played with majesty, subtlety and sweetness when his music asked for it. The piano was not as strong as the ones that were created in the mid-19th century, though it had tremendous power. He then played the elegant 'Waltz in A-flat Major'. I danced in my solitude backstage. He played so effortlessly, with a flowing beauty that depicted the ebb and flow of the waves. It was ever clear to me that each generation relied on the previous generation in order to go forward. How I wished I could have taken them all back home with me to 2061 to show my pupils how their music should be played! However, there was indeed one more final step I had to take. Oh, how I wish I could see Johann Sebastian Bach! That would have been much too risky, I dare say. I hated to leave this salon in Paris, but if I had stayed too long, I would never have been able to go back to my life. 'Be still, my eyes. Only visualize the portrait of the mighty Ludwig van Beethoven. I must go to see him.'
1807
The gunfire was deafening. No electricity. None of the modern conveniences. My PenPal was dead. I didn't know where I was in location or time. Not a sound of music. Was I to see Franz Schubert, Franz Joseph Haydn? Now hushed--the gunfire had subsided for a while. I was in a dream state, the likes of which I had not felt until that time. Suddenly, I felt a tap on my shoulder. How could that be? I could not be seen nor heard. A soft womanly voice asked, "Sir, do you need something? You seem lost." I replied, "Is this the concert hall?" She answered, "You are early. Herr van Beethoven has not arrived just yet." It worked. I was exactly where I had placed my thoughts to be. "That is alright, dear woman. I shall take my place and await patiently for his arrival". She nodded, "As you please, dear sir."
I looked at myself. My clothing had changed. Although I still wore a shirt and trousers, they were altered to befit the time. I sat quietly and took in the sights and sounds of a transformed world. Birds chirped, trees rustled, and horses carried people in coaches through the dirt roads. One horse and carriage stopped in front of this building I was in. A man emerged from the carriage with a black cloak and a worn hat. Nary a smile, the man nodded to the driver of the carriage who then trotted away.
The room was empty, but I had stayed off to the side so I would be hidden from sight. The man approached the fortepiano. He did indeed resemble some portraits of Mr. Beethoven that every good pianist had on the piano. However, it could have been someone else. He sat down in front of the keyboard. He paused silently. He then raised his arms slowly and brought them down toward the keyboard, leaning forward like a lion leaping toward the front of the cage. He played a crushing chord. It died out slightly after being held for what seemed like eternity. Soft chords followed. I knew this piece. It was the 'Pathetique' Sonata in c minor. My eyes welled with tears. It was indeed him. Herr Beethoven was involved in his own world of emotion. His soul cried out to me in pathos. He played with fervor, drastic shifts in sound from loud to soft, holding long pedals. It sounded like a full symphony orchestra reduced to that of a fortepiano. The dramatic effect he imbued and super-human persona radiated throughout the room. To imagine that it was the norm to hear such music played had escaped my way of thinking. At this point, I had no intention of returning to 2061.
The slow Adagio movement was a reflection of the peace and beauty of nature that surrounded the theater. The absence of technology gave me an appreciation for the environment. The sun had settled down and the town never became a multitude of lights and flying skateboards. However, the sounds of war had returned. Beethoven's music reflected the effects of war on his spirit.
Charles Dickens wistfully brought Ebenezer Scrooge back to Christmas Present through his own desire to return and spread his good cheer upon his neighbors. I was not so lucky, for I didn't have the resources to communicate with Dr. Muzel to aid my return. There was a tap once again on my shoulder. The young lady said, "You seem troubled, sir." I replied, "I am troubled, for I am not from here and I do not know how to find my way back to my home and time." She seemed puzzled by my reply. She kindly uttered, "You may stay here. I will help you until you are recovered. You are a kind man and I like to help people." How she reminded me of my dear Marilena in 2061. Her smile and sweet fragrance filled my heart. Were we indeed together in 1807 as well as in 2061? Do the pages of history repeat themselves with the breath of a century? All at once, a pulsating beeping noise and red light suddenly protruded through my coat pocket. In amazement, the young woman looked at me, shocked by this strange sight and sound. "Sir, what is that in your coat pocket?" With that, I departed the concert hall rather hastily. After running quickly, I had found myself alone with the PenPal. How did it ever re-activate? The screen pad read, 'I was able to re-charge this PenPal from solar radioactivated satellites that traveled through time sensors from 2061. I wish you luck. Signed, MB.'
A crowd converged around the young lady near to where I was standing. As I clutched my PenPal, I could still hear Beethoven's playing and the sounds of gunfire becoming increasingly louder. 'Please take me home--my purpose here has been fulfilled. I must go back!' The sounds of war became deafening with the pounding of the piano. War sounds and battle cries permeated my hearing and Beethoven's music echoed the war cries.
June 1, 2061
11:58 pm
Silence. Peace. No more sounds of war. Serenity. 'Where are you, Mr. Beethoven?' As my eyes opened ever so slowly, I had no idea where I was. Had I gone too far ahead in time? Did I pass 2061? There were no sounds. My eyes began to close as if I were to die. I felt as though I was traveling through myself.
June 1, 2061
11:59 pm
A gentle tap on my shoulder. Was it the kind young lady from 1807? Had she held onto my body and metamorphosized herself to another time? My eyes slowly regained consciousness. I raised my head up and looked around to see if the surroundings had been at all familiar. There was Dr. Muzel, transfixed by his successful accomplishment in metaphysical transport. How did I return to the time of my departure? Dr. Muzel fixed his eyes on my very existence in personal triumph. I was surely weakened by the enormity of what I had experienced. He had asked, "What did you see and what did you learn?" I proceeded to share my diaries from 2008, 1990, 1965, 1924 and beyond. My question to him was, "How did I return if it was my physical self that had been on this journey through time?" He stated, "It was the power of your spirit. There was indeed an InstaClone created before you had left. You passed through the cloned version of your self and upon your return, you passed through it to re-create your physical self." Indeed, I did travel through my self in order to re-create my true self in 2061. Surely, Dr. Muzel's accomplishments were intriguing. Dr. Muzel would inscribe his formulae for the next generation of transport through time.
As for me, I now understood the big picture. Through it all, my soul had survived with renewed inspiration, blessed by these visions of years gone by. I needed to share this thirst for knowledge with everyone I knew. Although technological and medical advancements have enabled my generation to live with ease, pleasure and longevity, it was indeed the gift of music which had remained ageless and eternal. My purpose in 2061 was to impart what I had learned to those who will look back in the future.
Copyright 2003, Naturally Sharp Inc.