Letters of Interest/Letters of Recommendation

---
LEONARD BERNSTEIN
Jeffrey Biegel, who played some fantastic Liszt the other night at the St Regis during the dinner in my honor, has asked me for a recommendation for a William Petschek debut recital at Julliard. I do so gladly. He is a splendid musician and a brilliant performer. I think you will be proud to present him to the public.
With my best wishes,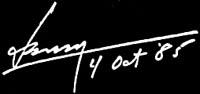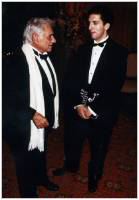 ---


RECITAL: JEFFREY BIEGEL, PIANIST, AT TULLY HALL

By DONAL HENAHAN
NY Times
Published: April 15, 1986

JEFFREY BIEGEL'S recital last night at Alice Tully Hall was the sort of event that can propel a young career into orbit. The 24-year-old pianist, a doctoral candidate at the Juilliard School, won the first prize in the 1985 University of Maryland International Piano Festival and Competition and already has toured in this country and abroad, but this recital was listed as his official solo debut in New York (he received this year's William Petschek Piano Debut Award at Juilliard). Mr. Biegel plays with remarkable assurance and maturity. If he continues on his present track, he will soon be mentioned with the best of the current crop of pianists.

Every young tiger of the keyboard nowadays can claw his way through Beethoven's ''Appassionata'' Sonata, but Mr. Biegel's performance went far beyond visceral excitement. There was a light, velvety touch in the opening measures and a grasp of the work's long line that prevailed even in the repeats of the slow movement, where many pianists bog down. Two of Brahms's short pieces from Op. 117 and 116 needed a bit more warmth and relaxed lyricism to sound idiomatic, but at no time was the sheer pianism less than ear-catching. These pieces, sadly neglected by recitalists of late, look and sound easy compared with the heavy-caliber stuff that young virtuosos love to attack, but really successful performances are not at all common.

Mr. Biegel came into his own with two Liszt showpieces, the Transcendental Etude in B flat entitled ''Feux Follets'' and the Twelfth Hungarian Dance. The etude's challenge is greatest at the first, with delicate double notes, which the pianist floated in exquisite fashion. The Hungarian Rhapsody, the most famous of the type, calls for an alternation of sultriness and brilliance that suggest the gypsy style of Liszt's homeland. We speak of such music being played, but rarely does a performance sound remotely like play. Mr. Biegel, however, had the keyboard command to make a game of the piece and played with it irresistibly. He made the most of the work's technical sparklers and roman candles, but a deep musicality was always at the heart of his pyrotechnics.
A pianist who plays Liszt so spectacularly well would not automatically be regarded as a winner in Mozart. One composer lays his hand on the table; the other holds it close to his vest. Mr. Biegel made Mozart's Sonata in C minor (K. 457), and especially the disarmingly simple Adagio, the most affecting music of the night. Earlier, he sometimes had a tendency to emphasize figurations and bury the significant melodic material, but here everything was perfectly poised and balanced. If the pianist's credentials as a keyboard technician had been presented most satisfactorily in other works, it was the Mozart that completely persuaded one of his musicianly gifts.

A pair of Rachmaninoff preludes offered further evidence of Mr. Biegel's keyboard expertise. No. 2 in B flat from Op. 23, with its alternated octaves and minor thirds in the right hand, sounded like the brutal etude it is, and No. 5 in G from Op. 32 made a lyrical contrast. More fireworks, a florid arrangement of ''By the Beautiful Blue Danube,'' closed an extraordinarily interesting and stylistically wide-ranging recital.